Three years later, Achma Asia exhibited in the world-scale process industry exhibition and conference, which is widely recognized by the industry, returned to China again. On May 14th, Achema Asia 2007, which brought together the latest technology and equipment from the world process industry, was grandly opened at the Beijing International Exhibition Center. 505 exhibitors from 27 countries and a net exhibition area of ​​8,800 square meters were created. The latest record of the show. Gu Xiulian, vice chairman of the Standing Committee of the National People's Congress, cut the ribbon for the opening ceremony of the exhibition.
Cao Xianghong, president of the China Association of Chemical Industry, the organizer of the exhibition, said in a speech: "The high degree of internationalization and professionalism has made Achema Asia the longest history in its kind in China, with the largest number of foreign exhibitors, the largest scale, and the highest level. The international exhibition and conference is also one of the richest and most technologically advanced chemical technology, bioengineering and equipment exhibitions and conferences in the Asia-Pacific region. The development of the world economy has resulted in the consumption of fossil resources, saving energy, reducing emissions, and achieving Sustained development has become a matter of common concern for all mankind. Looking into the future, the close integration of chemical and biotechnology will provide solutions to these problems, and in this process, the Achema Asia Exhibition will be a relevant entrepreneur from all over the world. Businesses and scholars have built a platform for mutual communication and exchange."
In the speech of the German exhibition organizer Desimma, chairman of the Chemical Engineering and Biotechnology Association, Dr. Ao Bojun pointed out that China is perhaps more than ever the hot spot in the global process industry. Not only is China's demand for raw materials and energy rising, it also has huge demand for equipment, technology, and project partners. The Achema Asia Show just can contribute in this respect. Exhibitors will provide China with the best and most resource-saving technologies and equipment.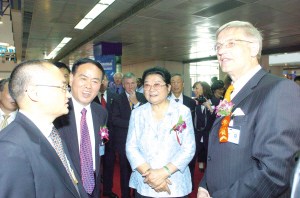 The picture shows Gu Xiulian (second from right), the vice chairman of the Standing Committee of the National People's Congress, visiting the exhibition.
Advanced technology: it passes the inspection and acceptance of the national expert group, remains the technology leader in China, and reaches the
advanced level of the world's corm drying technology;
O Strong operability and high degree of automation;
All-metal structure, modular construction and easy installation and maintenance;
O High heat utilization, using a multi-stage temperature-varying drying technology;
Large processing capacity (200-2000t/d), large moisture reduction at a time (2- 22%) and strong adaptability;
Adopting the multi-section drying process of "downstream drying--tempering.. counter flow drying--tempering-counter flow and downstream cooling", so
that corn grains are heated evenly. Sufficient tempering is conducive to the outward spread of moisture inside the corn. lts activity will not be affected,
ensuring the quality after drying

Tower Grain Dryer,Rice Mill Tower,Tower For Rice Mill,Malt Drying Machine
JINFENG DRYING EQUIPMENT CO.,LTD , https://www.jf-graindry.com