A new energy vehicle with a guide price of 300,000 may have a battery cost of 100,000 yuan or more. "Generally speaking, the capacity of a power battery less than 80% can no longer be used in new energy vehicles," said Yin Chengliang, deputy dean of the Shanghai Jiaotong University Automotive Engineering Research Institute, in an interview with reporters.
"Now a lot of (new energy vehicle) companies promise consumers battery life and warranty for a maximum of 10 years, but if you consider the use of the environment and other comprehensive conditions, the average life of a power battery is 5 years." There is no disclosure The name of the industry said.
As the situation of new energy vehicles is getting better, some people have also questioned: After five years or several years, these power batteries that cannot be used in new energy vehicles should go where?
The China Automotive Technology and Research Center predicts that by 2020, the cumulative scrap of electric vehicles for electric vehicles in China will reach a scale of 120,000 to 170,000 tons.
The use of ladders looks beautiful
These batteries, which cannot be used by electric vehicles, do not completely lose their value. Theoretically, they can also be used to store energy or related power supply base stations as well as street lamps and low-speed electric bodies according to different battery capacities. Finally, they can enter. Recycling system. This is also widely used in the industry as a recycling of power batteries or as a step-by-step utilization.
According to foreign media reports, in a car battery seminar last week, General Motors issued a statement that it will publicly disclose the development plan of electric vehicle battery secondary utilization technology. Prior to this, GM had proposed to use electric vehicle batteries for power grids. This is basically consistent with the current domestic industry's thinking.
"The use of power batteries in order to promote energy efficiency is one thing. On the other hand, if the use of ladders is popularized, it will undoubtedly greatly reduce the cost of new energy vehicles," said Yin Chengliang.
The "Energy Conservation and New Energy Vehicle Industry Development Plan (2012~2020)" promulgated in July 2012 clearly stated that it is necessary to formulate power battery recycling management methods, establish a cascade utilization and recovery management system, and guide production enterprises to strengthen the use of used batteries. Recycling, encourage the development of specialized battery recycling companies.
After this, "including Beijing and Zhejiang companies affiliated with the State Grid, are all committed to the research on the power capability of the power battery and invested capital in the research and utilization projects, but the progress is relatively slow." Prior to Sun Dongdong, an energy analyst at OFweek Industry Research Center Reported to reporters.
In fact, "the use of large-scale power batteries for energy storage, I am afraid it is only to think about it." North China, a new energy company's technical staff pointed out.
According to him, although the density requirement of single cells for energy storage cells is not as high as that for power cells, the energy storage cells for a large energy storage project have a relatively large scale, usually reaching hundreds of kilowatts or even megawatts, and a new energy source The average battery capacity of a vehicle is about 30kwh. If a power battery is used for energy storage, it will undoubtedly require a large number of battery packs. This will cause the entire energy storage battery block to face consistency and management difficulties, which will affect the entire energy storage battery. use.
What's more, "According to the current status of the industry, due to different battery routes, battery specifications, and battery evaluation requirements of different automobile companies in China, the type of battery is too much, resulting in excessive dispersion of output. 'Post-market' is the use of ladders to make it more difficult to use," Sun Dongdong said.
Therefore, in view of the above-mentioned technicians, if it is to be used step by step, I am afraid it is only a small-scale application. For example, household energy storage projects. However, "although from the perspective of technical requirements, small-scale home energy storage is relatively easy to achieve, but in fact, in this demand, the current demand in the Chinese market is not obvious. Relatively speaking, the United States or other countries more easily implemented Because their living environment is dominated by single buildings, energy storage equipment is easy to install."
Policy encouragement, sad business value
Although there are indeed various problems, the recovery and reuse of power batteries have become a top priority. According to relevant plans, by 2020, the cumulative production and sales of domestic new energy vehicles will reach 5 million. The China Automotive Technology and Research Center predicts that by 2020, the cumulative scrap quantity of electric vehicles for electric vehicles in China will reach a scale of 120,000 to 170,000 tons.
"A 20g mobile phone battery can pollute the water of 3 standard swimming pools. If it is abandoned on land, it can pollute 1 km2 of land for about 50 years. Imagine if it is a few tons of electric vehicle power batteries abandoned in nature. In the environment, a large number of heavy metals and chemical substances that enter nature will cause greater pollution to the environment," said Wu Feng, a professor at Beijing Institute of Technology.
Perhaps because of this, on December 30, 2014, the Ministry of Finance and other four ministries jointly issued the "Notice on the Financial Support Policy for the Promotion and Application of New Energy Vehicles for 2016-2020 (Draft for Soliciting Opinions)" (hereinafter referred to as the "Notice"). , To clarify the responsibility of the automobile manufacturing enterprises as the main responsibility for the recycling of power batteries, and to be responsible for the recovery of power batteries.
In order to encourage manufacturers to recycle power batteries, many local governments are also actively exploring. Shanghai has issued policies indicating that the government will recoup 1,000 yuan/set for the recycling of power batteries; Shenzhen will establish a power battery utilization and recycling system: 600 yuan for each car manufacturer and 300 yuan for recycling by the government. Power battery, preliminary establishment of battery recycling mechanism.
"We are currently discussing the follow-up battery recycling with our suppliers, but there are no specific details to disclose." Wang Yu (a pseudonym) of a new energy automobile manufacturer in Anhui told reporters, "Because last year's new energy vehicles Sales have only just started, so more attention is paid to front-end sales, and battery manufacturers are now busy expanding their production capacity, and they feel that they are not paying too much attention to recycling issues," said the above-mentioned person who declined to be named.
More importantly, in his view, it is technical insufficiency and the entire commercial chain for the reuse of new energy batteries has not been perfected, and the entire industrial closed loop is difficult to form. "That is an extreme example. You look at lead-acid batteries, where they can be recycled, garbage collection sites can also be recycled. Why? Because lead-acid recycling is very easy to generate commercial value – take a screwdriver and put waste batteries. Open up, drain the acid, and take out the most valuable lead plate and then resell it to make money." The above person told reporters.
However, why does the lithium battery not be recycled? In his opinion, the lithium battery recycling process is too complex. It is very difficult to recycle high-value intermediate products such as cathode materials, anode materials, electrolytes, and separators directly from used lithium batteries. In addition, lithium battery materials and formulas of different manufacturers are different, and it is not easy to complete the recovery.
Recycling is not easy, and reuse is more difficult. The above-mentioned technicians introduced that, even if it is a home energy storage battery, it is necessary to do secondary development based on the needs of the energy storage project, requiring the shape, installation, power interface, signal interface, various protocols, voltage levels, etc. after the battery is grouped. All must be unified. After these are completed, even if there is a "next home" who can accept the reuse of the product, how can the product to be reused be more cost- and price-advantaged than the new product?
Therefore, there are arguments that, in order to promote the recycling of power batteries, the battery standard should first be unified. "More importantly, the government can not only express support but not take out a substantial policy." Wang Yu believes that we can learn from Europe and South Korea and other countries to adopt tax relief or financial support to encourage companies to invest and try.
Mini Hydraulic Excavator is with compact design, and with low oil consumption, it is suitable to be used for small works,small projects, in garden, farmland, municipal works,vegetable greenhouse, digging trench It is with small engine, simple design, easy to maintain.
Advantages:

1.Power system: advanced turbocharged engine exhaust enough power reserves, it is possible to maximize the power of the engine to achieve the perfect match, reducing power losses.
2.Hydraulic system: imported international brands hydraulic parts, power loss, fast action, complex motor coordination, high efficiency and energy saving, reliability and long service life.
3.Walking System: use heavier type front and rear drive axle, gearbox, providing higher carrying capacity.
4.Cab: new style cab, new interior design, vision, bright and spacious, humane front gear mechanism, adjustable suspension seat with a high-grade, silicone shock absorption, superior driving environment.
5.Cooling system: parallel cooling installation, installation and removal are easy to clean; it has very high cooling efficiency.
Main scope: Concrete Grinding machines, Floor Polishing Machines, Road Line Marking Machines, Truck Cranes, Road Rollers, excavators, Concrete Leveling Machines, Power Trowels and other Construction machinery .
Jining oking tec co.,ltd, established in 2010, is a professional manufacturer engaged in the research, development, production, sale and service of Concrete Grinding machines, Floor Polishing Machines, Road Line Marking Machines, Truck Cranes, Road Rollers, Excavators, Concrete Leveling Machines, Power Trowels and other Construction machinery .
We are located in Jining city,Shandong province with convenient transportation access. Dedicated to strict quality control and thoughtful customer service, our experienced staff members are always available to discuss your requirements and ensure full customer satisfaction.
In recent years, we have introduced a number of advanced production equipment, and also have an excellent production team and a complete quality assurance system to ensure that each batch of goods is delivered to customers in a timely and high quality.
We also have an excellent management team, experienced technical staffs and professional sales team to solve all problems you encountered before and after sales. In addition, we have obtained I S O 9 0 0 1:2 0 1 5 certificates. Selling well in all cities and provinces around China, our products are also exported to clients in such countries and regions as United States, Europe,Australia, Southeast Asia,Russia,the Middle East,Africa. We also welcome OEM and ODM orders. Whether selecting a current product from our catalog or seeking engineering assistance for your application, you can talk to our customer service center about your sourcing requirements.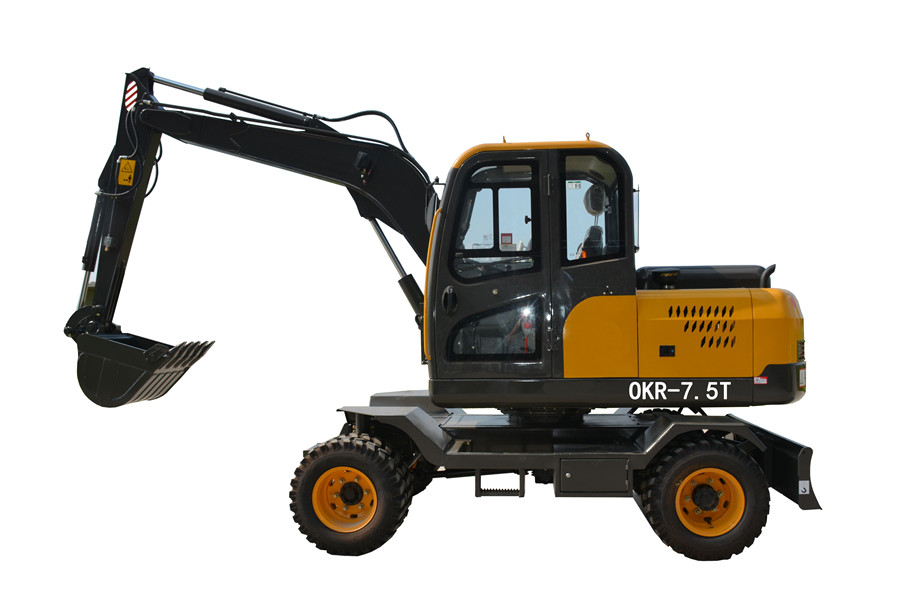 Excavators,Crawler Excavators,Mini Excavator,Wheel Excavators,Mini Digger,Wheeled Excavator,Mini Used Excavators,Mini Excavator Price,Hydraulic Mini Excavator
Jining Oking Tec Co., Ltd. , https://www.diggerexcavator.com