1. The characteristics of the dressing stone
Pacific molybdenum ore selected two types: type quartz veins and molybdenum ore GRANODIORITE gasoline. The chemical composition of the two and middle ore is shown in Table 1.
Table 1 Raw ore chemical composition table

element%

SiO 2

TiO 2

Al 2 O 3

Fe2O 3

MnO

Quartz vein

89.43

0.02

2.7

3.03

0.06

Granodiorite

65.74

0.45

1.3

4.54

0.05

element%

MgO

CaO

Na 2 O

Ri 2 O

P 2 O 5

Quartz vein

0.41

0.21

0.03

0.26

0.39

Granodiorite

1.52

1.62

1.33

1.71

0.78

element%

Mo

V

ThO 2

Cr 2 O 3

V 2 O 5

Quartz vein

0.12

0.004

<0.005

0.04

0.004

Granodiorite

0.1

0.003

<0.004

0.02

0.008
Selected metallic ore minerals: molybdenite, pyrite, yellow copper ore, magnetite, hematite, limonite, sphalerite, galena, bismuthinite, cassiterite, molybdenum ore calcium And molybdenum and so on. Gangue minerals include: quartz (majority), orthoclase, feldspar I, white mica, black mica, kaolin, chlorite, epidote, hornblende, rutile, calcite, apatite and zircon Stone and so on.
Molybdenum ore is scaly, 70% to 90% is symbiotic with quartz, 25 to 30% is associated with muscovite, and a small amount is mixed with kaolin and feldspar.
The main features of the selected ore are:
(1) The upper part of the ore body contains higher molybdenum oxide and lower depth. The ore oxidation rate currently treated is 5-14%. Molybdenum oxide ore is molybdenum-calcium ore and molybdenum, and molybdenum can be seen in ore, coarse concentrate and tailings. In the tailings, the rate of -200 mesh MoO 3 is as high as 10.17%.
(2) The molybdenum ore has a coarse grain size. When the grinding product - 200 mesh accounts for 42 to 47%, the monomer dissociation degree is 65%.
(3) The molybdenum ore contains almost no tungsten, that is, the Taiping molybdenum ore containing 35% of molybdenum is used, and the ammonium molybdate taken out by the process of hurricane evil gas contains W <50 ppm. Suitable for the manufacture of molybdenum.
(4) Because the SiO 2 content is high, the pulp is acidic (pH=6-6.5), the flotation foam is poor, and the flotation speed is slow.
2. Original design process
The original design process is shown below. After the ore is broken to 15-18 mm, it is ground into a ф1500×3000 mm ball mill and closed with a ф1200 mm single spiral classifier. Classifier overflow - 200 mesh accounts for about 45 to 50%. The crude concentrate is obtained after one rough selection, one selection and one sweep. Rough selection of tailings to float sulfur. The coarse concentrate containing Mo 2 to 8% is selected four times, concentrated, filtered and dried to obtain a finished product. [next]

Production practices over the past few years have shown that it is difficult to select a molybdenum concentrate that meets the YB601-65 standard. The 83-year indicators are listed in Table 2.
Table 2 Production Indicators of Taiping Molybdenum Plant in 1983

month

Raw ore (Mo%0)

Concentrate (Mo%)

Recovery rate%

one

0.137

32.91

68

two

0.138

37.02

62.75

three

0.143

37.72

61.87

four

0.136

39.1

73.82

Fives

0.134

40.47

76.06
[next]
The process test reveals that the quality of concentrate products is not up to the ministerial standards for the following reasons: the low degree of dissociation of coarse concentrates (Table 3) is insufficiently selected, and the rough selection flotation time is short. Three shifts are unstable.
Table 3 Monomer dissociation degree of coarse concentrate

Sieve grade

Yield%

grade%

Monomer dissociation (%)

80

1.27

15.57

40.13

-80~+120

3.1

14.97

71.34

-120~+160

3.1

10.55

74.37

-160~+200

3.46

13.07

88.49

-200

89.07

3.45

94.71

total

100

4.88

64.03
Practice has shown that even with the addition of a sufficient amount of water glass and potassium cyanide, it is difficult to obtain 45% molybdenum concentrate after five selections. The results of sieve analysis and chemical analysis of molybdenum concentrate are shown in Table 4.
Table 4 Results of sieve analysis and chemical analysis of molybdenum concentrate

Sieve grade

Yield (Mo%)

Grade (Mo%)

Metal distribution rate (Mo%)

Monomer dissociation (%)

80

8.05

37

8.35

38

-80~+120

15.61

40.95

17.42

46~50

-120~+160

16.59

36.9

17.16

70~76

-160~+200

4.63

43.35

5.89

80~83

-200

55.12

32.8

50.68

90.94

total

100

35.67

100

70.75
The data in the table indicates that the coarse-grained metal content above +200 mesh accounts for about 1/2, and the monomer dissociation degree is about 60%. The main reason for this partial grade is that the gangue minerals such as molybdenite and quartz are not sufficiently single. Disintegration, the only feasible way to improve the quality of this part is to re-grind. -200 mesh size monomer is very high, theoretically, molybdenum concentrate containing Mo50% can be selected, but the grade is not high, mainly because the selection times are too small and the flotation tank is too large.
Laboratory tests have shown that the concentrate can be concentrated and then ground to obtain a 51% Mo-containing ore (Table 5).
Table 5 Open concentrate concentrate regrind test results open circuit

Grinding time

Product name

Yield%

grade%

Recovery rate%

Mo

Cu

Pb

5'

Concentrate

7.41

50.15

0.07

0.04

58.71

10'

"

7.27

51.5

0.07

0.043

57.52

20'

"

6.24

52.15

 

 

51.05

40'

"

6.33

52.8

 

 

51.27

"

 

 

 

 

 
Experiments have confirmed that for Taiping molybdenum ore, it is considered to obtain greater economic benefits. After re-grinding and eight selections, it is advisable to produce molybdenum concentrate containing 51% Mo.
3. Process Reform From March to April 1983, on the basis of adequate preparation, the following reforms were made to the original design process:
(1) Adding a sweeping election to the rough selection section;
(2) Adding a concentrated concentrate dehydration and decontamination process;
(3) The coarse concentrate is reground in a ф900×1800 mm ball mill (closed with a ф 125 mm hydrocyclone);
(4) Change the three-choice selected assignments into one class of concentrated selection operations:
(5) Add four selections in the 1A flotation machine;
(6) Select direct tailing.
The reformed process is shown below. [next]

The reformed process is clearly superior to the original design process. The recovery rate is increased by about 5%, the grade of molybdenum concentrate is increased by 8 to 10%, and the quality of molybdenum concentrate of one quarter of the class is up to the special grade standard (see Table 6.)
Table 6 Comparison of technical indicators before and after process reform

Process

month

Raw ore (Mo%)

Concentrate (Mo%)

Recovery rate (Mo%)

Before reform

4

0.137

39.16

73.83

5

0.134

40.57

71.06

6

0.146

40.61

74.83

After reform

7

0.146

47.61

74.26

3

0.12

47

80.76

9

0.147

47.29

81.03
The economic benefits are also very obvious. At the current level, the annual net income is about 150,000 yuan.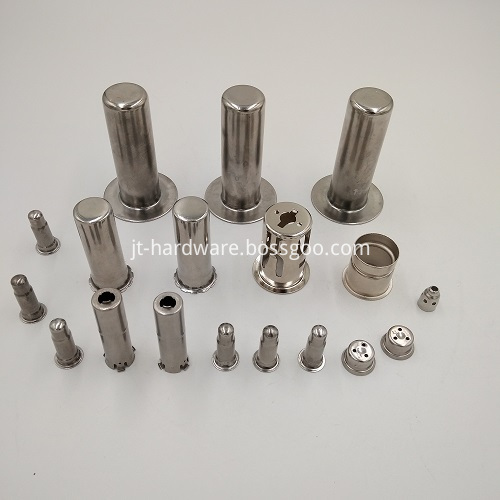 Jiantong Hardware is Proud of offering a wide variety of Standard Sized Seamless Deep Drawn Cans & Enclosures, including Radio Frequency Interference Cans, Round, Rectangular, Square, etc.; from a variety of materials including Steel, Stainless, Aluminum, Brass, Copper and Nickel Alloys.
Metal Deep Drawing,Metal Drawers,Deep Drawing Metal,Coustom Metal Deep Drawing
Nanpi Jian Tong Hardware Manufacturing Co., Ltd. , https://www.jiantongstamping.com