Recently, in Beijing and Tianjin, urea products for counterfeit and counterfeit automobiles that frequently counterfeit the trademark of Kelan have been easily confused by consumers and harmed the interests of consumers. In order to rectify the market order and protect consumer rights and interests.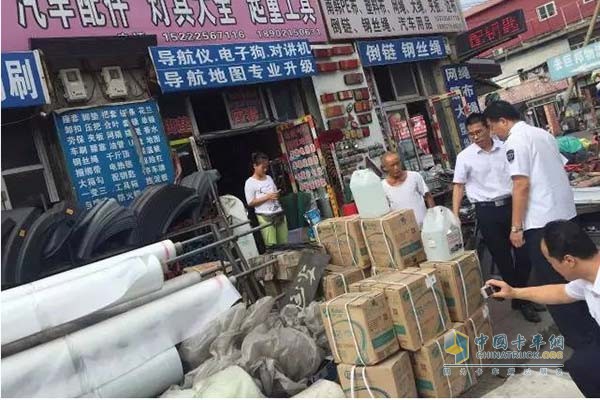 Fighting the scene
On August 25, 2016, Kosher cooperated with the Industrial and Commercial Inspection Team and came to a counterfeit outlet in a logistics park in Dongli District of Tianjin for counterfeiting. Related departments seized a batch of counterfeit and shoddy products on the spot, and gave harsh financial penalties to the sales outlets. Following this, Kosansu will cooperate with related departments to continue to trace the origins of counterfeit sales and counterfeited products, crack down on counterfeit and shoddy products, and return the urea market for vehicles. .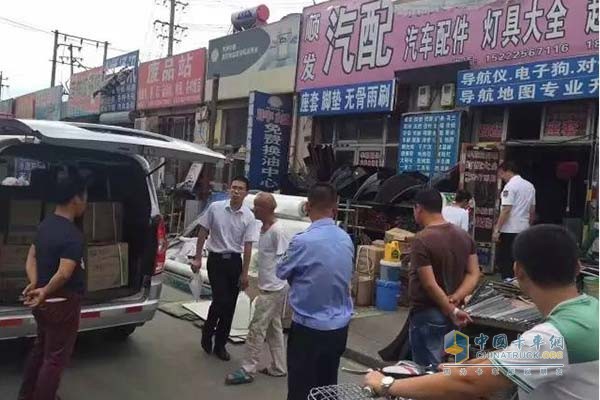 Collecting counterfeit products
MH Type Electric Hoist Girder Gantry Crane is used together with CD MD Model electric hoist. It can be matched with various electric wire rope hoist and chain hoist, to meet the different requirements of customers to improve the working efficiency. It adopts the optimized design of main beam to keep the strong stability and stable braking and precise location when crane in the low dead weight. It is the best solution of light load and short span.
This product is a regular crane widely used at open ground and warehouses to load, unload or grab materials. It has two controlling methods: ground control and cabin room control.
We can provide you all kinds of MH type Electric Hoist Gantry Crane, truss gantry crane, other accessories are also available such: Crane Remote Control, Insulated conductor Rail and Hoist Hook , and also the Grab Bucket , with us you can enjoy the one stop service.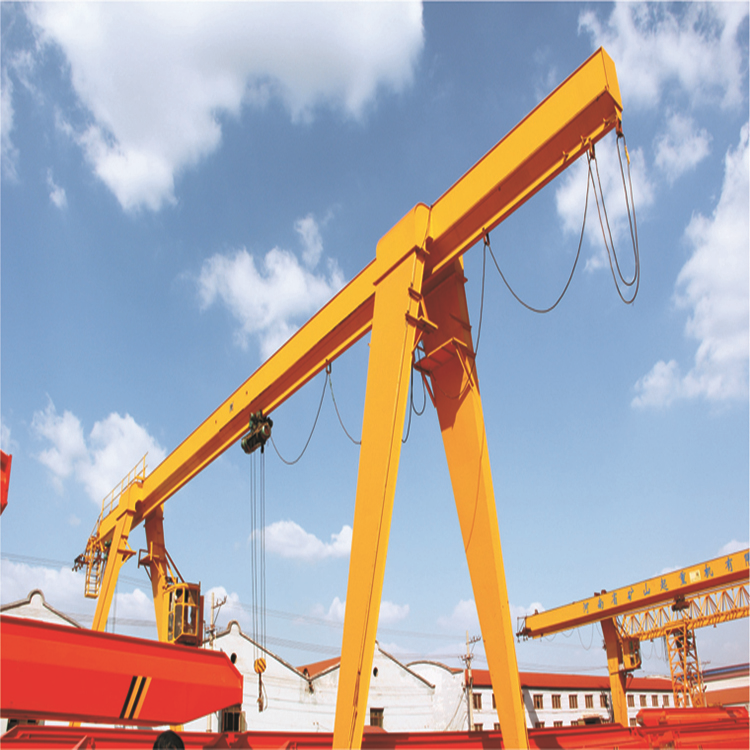 Sketch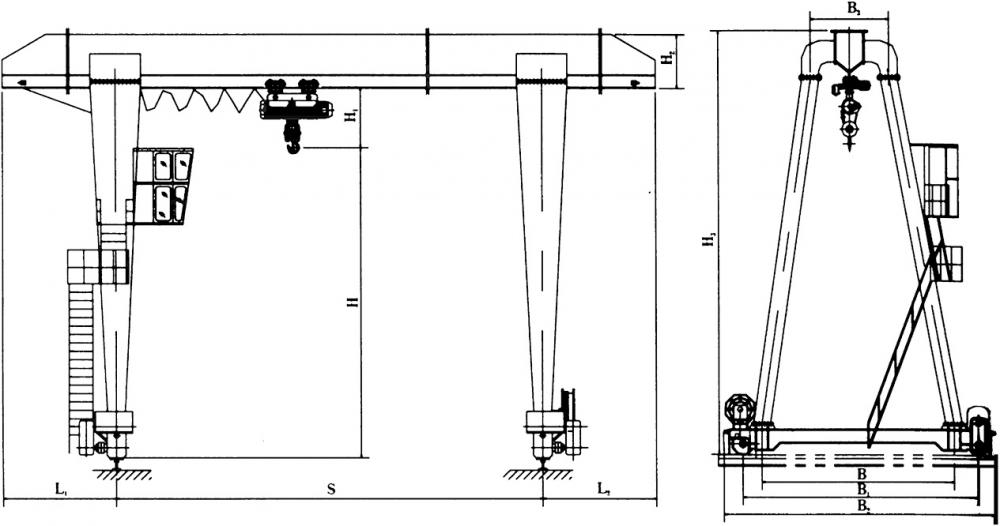 Parameter
Lifting Capacity

T

3

5

10

16

20

Operation method

Pendent line with push button/ cabin

speed

Lifting

m/min

8, 8/0.8

8, 8/0.8

7, 7/0.7

3.5

3.5

Cross travelling

20

20

20

20

20

Long travelling

ground

20

20

20

20

20

cabin

30, 40

30, 40

30, 40

30, 40

30, 40

Motor

Lifting travelling

Type/kw

ZD41-4/4.5

ZD141-4/7.5

ZDS10.8/4.5

ZD151-4/13

ZDS11.5/4.5

ZD151-4/13

ZD152-4/18

Cross travelling

ZDY12-4/0.4

ZDY121-4/0.8

ZDY21-4/0.8×2

ZDY21-4/0.8×2

YZD-4/0.8×4

Long travelling

ground

ZDY21-4/0.8×2

YZR132M1-6/2.2×2

YZR160M1-6/6.3×2

YZR160M1-6/6.3×2

YZR160M1-6/

6.3×2

ZDY21-4/1.5×2

YZR132M2-6/3.7×2

YZR160M2-6/8.5×2

YZR160M2-6/

8.5×2

cabin

ZDR22-4/1.5×2

YZR132M2-6/3.7×2

YZR160M1-6/6.3×2

YZR160M2-6/8.5×2

YZR160M2-6/

8.5×2

ZDR24-4/2.2×2

YZR160M1-6/5.5×2

YZR160L2-6/11×2

YZR160L2-6

/11×2

Electric hoist

Type

CD1/MD1

CD1/MD1

CD1/MD1

CD1

CD1

Lifting height

m

6,9

Working duty

A5

Power supply

380V 50HZ 3phase AC

Span

m

12,16,20,24,30
Detailed image

Single Girder Gantry Crane
Single Girder Gantry Crane,Single Girder Goliath Crane,Single Beam Gantry Crane,Electric Hoist Gantry Crane
Jiangxi Mide Industrial Co., Ltd. , https://www.midecrane.com