The Michelin Agricultural Tire Division was honored as CNH Industrial's 2015 "Best Supplier" title. As a global leader in agricultural machinery, construction equipment, commercial vehicles and powertrain technology, Case New Holland Group is mainly engaged in the design, production and sales of industrial machinery. Its 12 brands cover tractors and combine harvesters , Excavators, wheel loaders, trucks , buses, fire and civil defense vehicles to all aspects of technical solutions for highway and off-highway and marine engine power systems.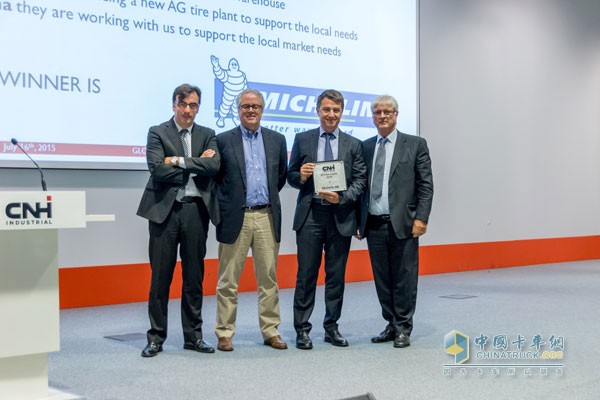 Michelin won the "Best Supplier" award from Case New Holland Industry Group
This annual awards assessment created an opportunity for Case New Holland Industrial Group to allow it to evaluate key suppliers based on key performance indicators such as business relationships, product quality, supply chain and reliability, helping to promote continuous Progress, thereby strengthening the partnership for sustainable development.
This honorary title highlights the effectiveness of Michelin's "active demand management" model. This management model initiated by the Michelin Agricultural Tire Division aims to enhance the integration capabilities of customer needs and place it at the heart of the supply chain. The award also recognizes Michelin's strong support for Case New Holland during its development in emerging markets such as China and Brazil, as well as the superior performance of Michelin's high-performance agricultural tires, such as Michelin ultra-low-pressure tires.
Finally, this title is also the result of a strong long-term partnership between the two parties, reflecting their joint efforts over the years with farmers to meet the challenges in the agricultural sector. This year was the first time that the award was awarded to tire manufacturers.
Michelin's cooperation with Case New Holland Industrial Group is reflected in the Milan Expo 2015: Michelin's ultra-low-pressure tires were selected by New Holland Agriculture, a subsidiary of Case New Holland Industrial Group, as its energy source at Expo and Italy. Energy Independent Special tires for farm machinery products exhibited at the farm "La Bellota".
Mr. Emmanuel Ladent, director of Michelin's agricultural tire business department, attended the award ceremony held by Keith New Holland Industrial Group on July 16, 2015. "The Michelin Agricultural Tire Team is extremely proud of this award. This is the result of the joint efforts of Michelin and Case New Holland Industrial Group. We concentrate on all our efforts to meet the needs of our customers. This award also reflects Case. We are honoured to express our confidence in New Zealand Industry," said Mr. Long Yao.
Fly ash block manufacturing plant is a AAC block manufacturing process with fly ash as the main material, as you may know that the fly ash is an industrial waste, which can be derived from power station and cement making plant. And as it`s ground before burning, so it`s not necessary to use Ball Mill to grind it again, and this is the main difference between the two processes. However the lime still need to be ground, after materials batching and mixing, the slurry will be poured into a mould, where the green cake may go through several different processes, such as per-curing, cutting process, curing inside the autoclaves, after curing, the finished AAC is produced, and will be transported to clients after packing.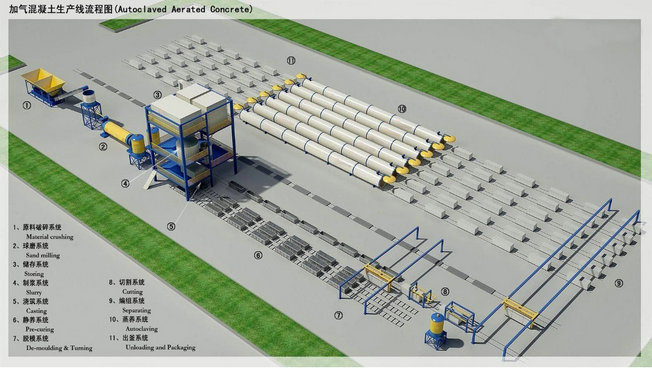 Fly Ash Aac Production Plant,Aac Plant Machinery,Aac Manufacturing Plant,Aac Block Making Plant
Henan Mingyuan Heavy Industrial Machinery Company Co., LTD. , https://www.heavyequipmentchina.com